As the British electorate will, no doubt, reluctantly go to the polls on Thursday 15th November to cast ballots for the new
Police and Crime Commissioners
, I have a nagging worry that we are heading towards a politicised police service.
In 1829,
Sir Robert Peel
, created an organised police service and the UK has enjoyed an independent police that has generally been free from political interference. There have been occasional, disappointing examples of politicians trying to twist arms, over ride,
bully
and
use the police
for political ends but overall during the past 183 years we have been fortunate to have a reasonably fair police service (compared to other nations).
Cheshire Police on duty during Second World War in 1940
I support having better transparency and accountability and, as someone who served briefly on a police consultative committee, I saw the weak democratic leverage over the police, as they knew they did not have to worry about community members having any real influence. So, in theory, having democratically elected Commissioners with a mandate from the public, seems to makes sense. However, the reality is that one person who can, with respect, come from any background setting out police priorities, is asking for trouble. We need robust, intelligent Commissioners, sympathetic to police strategies but willing and able to challenge and offer a wider perspective on public priorities, without compromising the police in an era of
funding cuts
.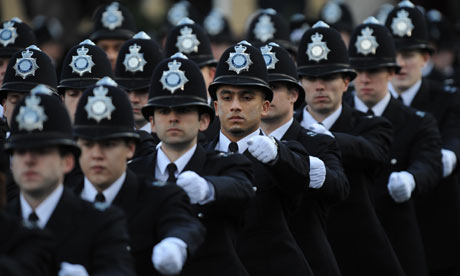 BUT
my biggest concern is from those individuals who are members of political parties. No matter the squeals and protestations that they will take an oath of independence, the fact that they are subservient to a party will mean that they are compromised and have two masters; the public and their political party. They will have to look over the shoulders at
David Cameron
,
Ed Miliband
and
Nick Clegg
before demanding change and wanting resources to be moved. It is inevitable that PCC's will be politicised, if they are elected as political candidates. That, in my opinion, is fundamentally wrong.
Sarah Flannery in Chester talking to local residents
That is why I am supporting
Sarah Flannery
in
Cheshire
and I hope Independents will be elected across the UK providing they have a clear vision of their role and will work in partnership with the police. Every voter has two votes, so it is very important to give first preference to
Sarah
. She has the strength of character, bright ideas and in-depth knowledge of the police and local communities to make a positive change to local policing in. Cheshire. Vote
Sarah Flannery
.