After
years
of denial, obfuscation and lies, News of the World has been forceably
closed
down by James Murdoch, Chairman of News International today.
Phonegate
had degenerated into hourly revelations of gratuitous phone hacking of 7/7 victims, Milly Dowler's phone and servicemen and women.
The British press has taken a rightful battering for the industrial scale use of direct phone hacking and the use of private investigators to listen into private voice-mails to glean a quick story or a morsel of information.
The police must also be brought to account for the grossly incompetent and negligent first investigation in 2006 that repeatedly denied any wrong doing outside the original court case of two men. The reality was that evidence was hidden and ignored implicating many others. After hearing that police officers were indeed on the
payroll
of the News of the World, British justice has also taken a hammering. Can the police be trusted to carry out their work and not take bribes?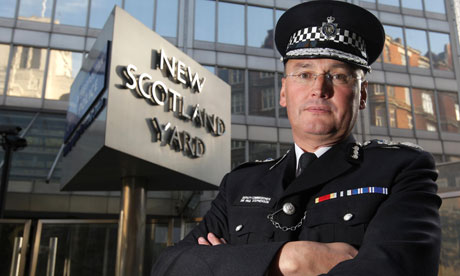 Police officers may have accepted over £100,000 in bribes, although Met Commission (above)
Sir Paul Stephenson had said the sums were 'small'
The Guardian
has revealed that perhaps 4,000 victims are listed in the evidence and after the then Assistant John Yates had dismissed the newspaper for claiming in 2009 that between 2,000 and 3,000 might have been victims, it shows the deliberate misleading and perhaps untruths that were told by senior police officers.
Now the heat will be turned up on
Rebekah Brooks
and whether she knew more than she claims about the scandal. It seems like a question of time before she will be forced out. Murdoch has had enough and is now purging his media empire of those tarnished by Phonegate.
Rebekah Brooks with Rupert and James Murdoch - clock ticks to her firing?
The repercussions of this scandal will reverberate for generations to come but maybe it will be the catalyst to clean up journalism and end the dirty tactics of dish the dirt on anyone at any cost. However, it will take a long time for the public to forgive the excesses of this scandal. With ongoing police enquiries involving dozens of police officers sifting the evidence and new charges being brought regularly against employees of News International, this is far from over. Perhaps the worst is still to come out about what these disgraceful individuals did to the innocent? How many lives have they ruined in pursuit of a so called 'exclusive'?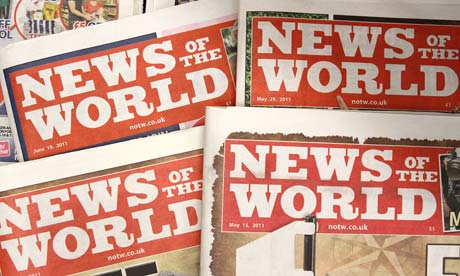 News of the World - the end but the scandal goes on