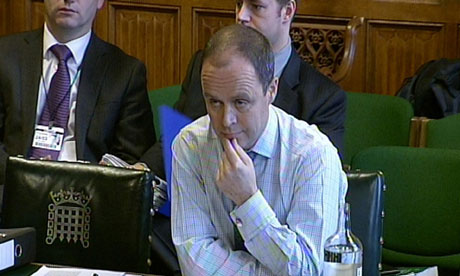 John Yates listing his excuses to the Home Affairs Committee for not looking at 11,000 pages of evidence in 2009
Assistant Commissioner John Yates failed miserably to adequately investigate systematic, widespread criminal phone hacking on a massive scale. His pathetic excuses in front of the Home Affairs Committee today must assume that MPs are idiots.
To point the finger at News International and say "
It is a matter of great concern that for whatever reason the NOTW failed to cooperate... with the relevant police inquiries... they have only recently provided evidence that would have had a significant impact"
. Poppycock Mr Yates, you are a police officer. Politicians can try and wriggle around and point the blame at others, but you were paid by the public to investigate. When you are sitting on 11,000 pages of evidence that is a pretty good start to join up the dots and haul in journalists and private investigators to demand answers. If you thought that the evidence was too big to handle for your officers you should have asked for more resources and asked for more time. You didn't. You ignored criminal activities and misled the public, parliament and the rest of the media that there were no other phone hacking other than the original Mulcaire-Goodman case.
At best, the Met officer was grossly incompetent and negligent in overseeing the investigation in 2009 or (given the recent allegations of £130,000 of bribes paid to police officers) was dissuaded from investigating by vested interests, which makes him a fool. Either way, the man is not someone the British public should have in a senior position protecting them from criminals. John Yates should resign or be sacked.
The police found 11,000 pages of evidence from the original phone hacking cases and a cursory glance shows that there were many other victims who may have had their phones hacked. Andy Hayman was in charge of the 2009 investigation on the ground and promised to "leave no stone unturned". He then brazenly and misleadingly stated that:

"

The Guardian
has said it understands that the police file shows that between 2,000 and 3,000 individuals had their mobile phones hacked into, far more than was ever officially admitted during the investigation and prosecution of Clive Goodman. Yet, my recollection is different. As I recall the list of those targeted, which was put together from records kept by Glen Mulcaire, ran to several hundred names. Of these, there was a small number — perhaps a handful — where there was evidence that the phones had actually been tampered with."
Clearly that is not the truth, when the Met have now admitted 4,000 names are in the evidence and after a thorough investigation it is likely that a substantial number will be found to be directly hacked or attempted to be hacked.
Former Assistant Commissioner Andy Hayman grossly misled the public
Mr Hayman no longer works for the Met so can't be sacked but he too should face an investigation for either blatant lies or at best, grossly misleading the public. However Mr Yates is still in place and needs to be held to account. Keith Vaz MP, Chair of the Home Affairs Committee was withering in his dismissal of the credibility of Yates as a witness today and warned him about misleading parliament. Yates is likely to be recalled to the enquiry.
Yates supplied a letter to the Home Affairs Committee prior to attending and giving oral evidence today. He stated (in reference to advice from the Prosecution Counsel about the 2009 investigation) that

: "
It is appreciated that such a review is always undertaken in relation to relevance in respect of the indictment. However, in a written memorandum, dated 14th July 2009, Counsel stated: (the underlined aspects are my emphasis)
…'we did enquire of the police at a conference whether there was any evidence that the Editor of the News of the World was involved in the Goodman-Mulcaire offences. We were told that there was not (and we never saw such evidence).
We also enquired whether there was any evidence connecting Mulcaire to other News of the World journalists. Again, we were told that there was not (and we never saw such evidence).'
In other words, in whatever guise - relevance to the indictment or otherwise - that Counsel considered the unused material, they stated then in unequivocal terms that they were neither told about nor did they see any matters that appeared to merit further investigation.
On 16th July 2009, in his own statement on the matter, the DPP stated 'it would not be appropriate to re-open the cases against Goodman and Mulcaire, or to revisit the decisions taken in the course of investigating and prosecuting them'. This led to the case remaining closed until January this year when new evidence was provided by News International which resulted in the launch of Operation Weeting."
The utter baloney that he has written to the Home Affairs Committee is staggering. Yates looked at 11,000 pages of evidence and he and his officers decided on the narrow confines of a brief not to look for any other possible leads of criminal activity. A cursory glance would have shown highly
suspicious
evidence. They must though have come across examples of wrong doing but decided not to offer it up as a viable case to the CPS. The question is; why? They didn't tell the victims that their phones had been hacked or were likely to have been hacked. They didn't take even samples of the evidence to chase down to see if there could be hard evidence of hacking. They walked a tight rope of ignoring everything apart from the original case to see if there was a water tight case of further wrong doing by journalists linked only to Mulcaire and the specific case for which he was found guilty. Staggering. Absolutely staggering.
By blatantly and openly ignoring the mountain of evidence, Yates gave a further green light to the media to carry on as before to hack and blag their way through people's private lives. Yates has a greater responsibility to ensure that the excesses and criminal activities of those that live in the shadows are routed out and prosecuted. He has failed miserably and should go now.