The latest twist to the saga of newspapers illegally listening into people's phones and voice mails was the revelation that a collapse of a court case has revealed a private investigator had links to bent police officers, the News of the World and other papers such as the Mirror Group.
There are times when it seems like something out of a thriller novel or film. David Cameron hired
Andy Coulson
as his Director of Communications knowing full well that Coulson was paying a man called Jonathan Rees who had illegally purloined information on people in the public eye. Nick Clegg was aware of the information on Coulson and did nothing to try and stop the appointment.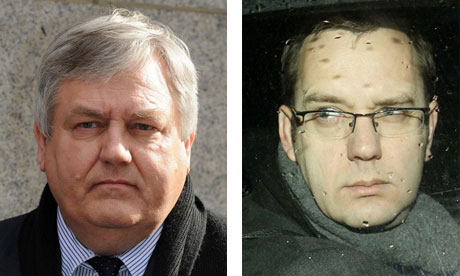 Jonathan Rees illegally passed information to Andy Coulson's News of the World
Coulson always stated he knew nothing of the appalling practices at the News of the World and that there was the single rotten apple in the business who got found out. It is now becoming clearer that there was an office full of journalists paying private investigators to hack into mobiles to get them any information they could turn into 'stories'.
The Guardian's report
today only makes it more and more likely that the previous police enquiries were utterly compromised and never professionally undertaken to root out the wrong doing across various newspapers.
Rees
paid corrupt police officers cash to hand over confidential information. There are accusations that the
Police mis-led Parliament
over phone hacking.
Chris Byrant MP
has done a sterling job in robustly tearing open the secret criminal world involved in phone hacking and more power to his elbow that he will continue to do so.
Chris Bryant MP - championing the truth about phone hacking
Given I was subjected to a man claiming to be a police officer I wonder whether it was a real police officer in the pay of a journalist or private investigator or whether it was a shady character impersonating a police officer to try and find out private and confidential information. The dirty tricks that have been going on, are only just coming out into the light. It is a chilling thought that some of the very people who should be protecting individuals may also be prepared to pass confidential information to people posing as journalists. What happens if they were duped and passed information not to a journalist but a terrorist or other criminals?
One wonders if the
current Met Police investigation
can be trusted and whether the officers have been vetted and screened to ensure that they can be trusted? Given the Police have yet to approach me (although my solicitor has voluntarily offered to assist them on my behalf) for a statement, how on earth can I and others have any real confidence that they are seriously investigating every aspect of this case?
Deputy Assistant Commissioner Sue Akers in charge of phone hacking investigation
What else and who else is to be exposed for illegal practices? How many voicemails were hacked? What information was used or acted upon to blackmail people? How many and which police officers have been helping to feed information to journalists and private investigators? What emails are being investigated by the police to see if there is an audit trail of wrong doing? When will the police contact each and every victim and ensure their cases are thoroughly investigated?
There are far more questions than answers and the murky world of journalists, private investigators and bent coppers will continue to be illuminated by the truth.