John Bercow is a man of integrity with a quiet demeanour and a thoughtful, tolerant outlook on life. In the times that I came across him I found him to be puritanically polite with a cricketing sense of fair play.
I sincerely hope that the House of Commons re-elects John Bercow and that it appreciates a good Speaker when it has found one.
Elected in 1997, I remember this polished MP carefully choosing every word to tackle Ministers and offer his views on all manner of debates. He made a positive impression.
In 2002, he stuck out his neck to defy Conservative Whips over a vote on gay and unmarried couples adopting children. He urged a free vote on a matter of conscience. That is the mark of an independently minded, parliamentarian. Too many have forgotten the paramount importance of parliament in a digital, PR age with Prime Ministerial TV debates and 24/7 news. John Bercow is the essence of what is decent in the Commons. After the expenses scandal he can lead the Commons forward through rapid, progressive changes to modernise it.
In 2005, he was presented with the prestigious 'Opposition MP of the Year' award for his repeated meticulous scrutiny of the Government in numerous debates and question times. In 2008, he was in charge of the 'Bercow Review' for
review of children and families affected by speech, language and communication needs (SLCN), which was widely praised.
In 2009, at a speech to the Hansard Society he set out a persuasive vision of how parliament should and could re-connect with the public and how to create a 'people's parliament'.
Yes he flipped his house and yes he paid an accountant to complete his tax return. Compared to duck houses, moats and the rest these were minor infringements of the spirit of the rules.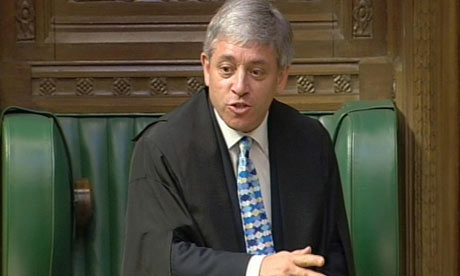 It is rather his manner and outlook which is to be cherished. John Bercow has been an excellent Speaker and offers a modern vision for the future of the mother of all parliaments. I trust parliamentarians will back him.